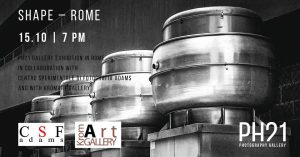 Shapes are one of the most important aspects of creative photographic compositions. Living beings and inanimate objects, including the built environment come in many forms, and photographers often rely on the creative possibilities offered by their shape. While in some cases the images of things only have a depictive function, at the other end of the spectrum abstract photography concentrates on shapes and forms for their own sake up to a point when we can no longer recognise the depicted objects themselves. Between being either insignificant or the only significant element, the shape of recognisable forms may also be the driving compositional component of an image. That is, the shape of living beings and objects may be of central importance to the composition of photographs not only in abstract photography but also in virtually all other photographic genres. These images capture our attention and stand out for their creative compositional form.
Vernissage October 15, 2021, 7:00 p.m.
Until October 24, 2021.